Eczema, also known as atopic dermatitis (AD), is a chronic inflammatory skin disease that causes patches of red, leathery, and scaly skin. The inflamed skin is itchy and often painful.
We are seeing a lot of this right now with many of you that are overwashing your hands, overutilizing soap, and over emulsifying the oils off of your skin. Not having enough skin oil can create eczema like patches. However, sometimes eczema can be linked to autoimmunity.
Urticaria, also known as hives, is a common skin condition affecting 15 – 25% of people within their lifetime. It produces itchy pink or red bumps as well as patches of swelling.
Chronic urticaria (CU) is less common (0.5 – 1% of the population), but more debilitating since it lasts more than 6 weeks. In 30 – 50% of cases, CU is believed to be caused by an autoimmune response, which helps explain its connection to celiac disease as well as many other autoimmune conditions.
To connect with Dr. Osborne visit:
Facebook: https://www.facebook.com/DoctorPeterOsborne/
*These statements have not been evaluated by the Food and Drug Administration. This video is not intended to diagnose, treat, cure or prevent any disease. It is strictly intended for educational purposes only. Additionally, this information is not intended to replace the advice of your physician. Dr. Osborne is not a medical doctor. He does not treat or diagnose disease. He offers nutritional support to people seeking an alternative from traditional medicine. Dr. Osborne is licensed with the Pastoral Medical Association.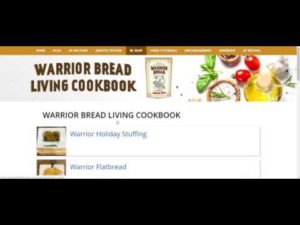 Grab Warrior Bread Here: https://www.glutenfreesociety.org/shop/supplements/warrior-bread-grain-free-bread-mix-presale/ Check out our...