Think you might be gluten sensitive? Take the quiz:
https://www.glutenfreesociety.org/gluten-sensitivity-intolerance-self-test/
00:00 – I heard parasite detox can reverse gluten sensitivity. Is this true?
03:53 – how often should you take Gluten Shield?
04:54 – when will your food sensitivity tests be ready for us?
05:10 – what do you think about DMSO used for pain?
06:33 – how much zinc do you suggest on a daily dose?
07:25 – what could be the reason for a low white blood count?
09:45 – I have serotonin syndrome. What can I do?
11:25 – what causes broken capillaries on my face?
11:44 – I am severely sensitive to corn. Any way to reverse it?
13:10 – my gums are very inflamed and itchy
15:40 – difference between Multi Nutrients and Ultra Nutrients?
17:00 – is being woken from sleep stressful to the body?
18:51 – can gluten sensitivity be related to the onset of AFIB?
19:40 – can celiac cause meningitis in children?
20:20 – can we avoid copper insufficiency?
20:40 – had my gallbladder removed. What supplement should I use?
22:09 – how long does it take to detox from an amalgam to reduce tinnitus?
22:50 – what is vitamin K2 good for and would you recommend it?
23:47 – what about goat dairy?
24:50 – hydrogen peroxide nebulization
25:14 – would a sunlamp be helpful for parts of the country that don't see that much sunlight this time of year?
26:26 – can you be cured from hypothyroidism if you stop eating gluten?
26:57 – do copper bracelets work?
27:29 – Okay to eat beef bones or bone broth that I get from grass fed cows?
30:22 – best way to address TMJ?
32:20 – when you talk about mold, does that include bathroom mold?
33:45 – can gluten sensitivity cause hair breakage or hair loss?
35:51 – repeated bouts of tonsillitis?
To connect with Dr. Osborne visit:
Facebook: https://www.facebook.com/DoctorPeterOsborne/
*These statements have not been evaluated by the Food and Drug Administration. This video is not intended to diagnose, treat, cure or prevent any disease. It is strictly intended for educational purposes only. Additionally, this information is not intended to replace the advice of your physician. Dr. Peter Osborne is one of the most sought after alternative and nutritional experts in the world. A Diplomate with the American Clinical Board of Nutrition, a graduate of Texas Chiropractic College, and a doctor of pastoral science, Dr. Osborne is one of the world's leading authorities on gluten, nutrition, and natural health. He is the founder GlutenFreeSociety.org, one of the world's largest informational sites on gluten sensitivity. In addition, he is the author of the best selling book, No Grain No Pain, published by Touchstone (Simon & Schuster). His work has been featured by PBS, Netflix, Amazon, Fox, and many other nationally recognized outlets. For more information, visit us at https://www.glutenfreesociety.org/ or call 281-903-7527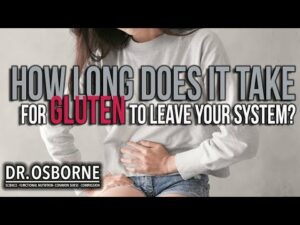 Gluten Shield - specially formulated for those seeking...