00:00 – Can gluten cause back pain? What about MS?
01:28 – what is heart disease? Do high blood pressure and high cholesterol count?
06:56 – how much methylfolate should I take?
08:42 – recent blood test shows elevated iron. Any thoughts?
09:47 – should everyone supplement with CoQ10?
10:29 – do oxalates release histamine?
11:00 – what antivirals do you recommend in general?
13:03 – Masterclass info
13:25 – wondering about heart palpitations
14:20 – how can I lower my calcium and lipoprotein a?
16:08 – can eating gluten cause one to cough within minutes?
17:06 – does supplemental calcium increase the risk for heart disease?
18:57 – I've read that gluten is related to keratinosis?
19:25 – how long does it take gluten to get out of your system?
20:26 – can cold hand and feet be a sign of heart issues?
21:27 – Is iron deficiency linked to heart problems?
22:20 – Ideal daily dose of vitamin B12?
23:00 – best way to lower triglycerides?
23:34 – what's the healthy alternative to lower blood pressure?
24:30 – if you have a parent that has heart disease, are you doomed to have the same issues?
27:34 – is it dangerous to have low blood pressure?
28:41 – best way to counteract histamine?
29:23 – can elderberry trigger a cytokine storm?
29:50 – does one accidently gluten ingestion cause villi to disappear?
30:30 – excessive calcium and kidney stones
To connect with Dr. Osborne visit:
Facebook: https://www.facebook.com/DoctorPeterOsborne/
*These statements have not been evaluated by the Food and Drug Administration. This video is not intended to diagnose, treat, cure or prevent any disease. It is strictly intended for educational purposes only. Additionally, this information is not intended to replace the advice of your physician. Dr. Osborne is not a medical doctor. He does not treat or diagnose disease. He offers nutritional support to people seeking an alternative from traditional medicine. Dr. Osborne is licensed with the Pastoral Medical Association.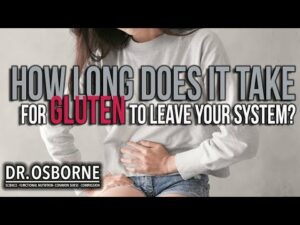 Gluten Shield - specially formulated for those seeking...