Gluten free diets have grown in popularity over the years. But with the added attention, comes plenty of misinformation. I want to address some of the common misconceptions and myths surrounding a gluten-free diet to help you sort through the noise so you can make educated and informed decisions.
– Myth #1 – Do Gluten Free Diets Cause Malnutrition? (1:00)
– Traditional Gluten Free Diet CAN Cause Malnutrition (2:26)
– Myth #2 – Are Gluten Free Diets Only for Celiacs? (8:48)
– Symptoms of Celiac vs Non Celiac Gluten Sensitivity (10:57)
– Myth #3 – Is a Gluten Free Diet Healthier? (17:02)
– The Dark Side of a Gluten Free Diet (19:55)
– Traditional GF Diet and Nutrient Deficiencies (23:53)
– Myth #4 – A Gluten Free Diet is a cure-all for Disease (27:40)
– Live Q&A Discussion (34:45)
I hope this helps to clear up some of the misconceptions and myths you may have heard about gluten-free diets. Remember that gluten-free diets, when full of healthy, whole, unprocessed foods, are nourishing for all people, whether or not they have been diagnosed with celiac disease or NCGS. There's simply nothing contained in grains that can't be obtained in your diet by eating another less-processed food.
For those who want to read more, check out this article – https://www.glutenfreesociety.org/4-gluten-free-diet-myths/
You can check out my Glutenology MasterClass here – https://www.glutenology.net
To connect with Dr. Osborne visit:
Facebook: https://www.facebook.com/DoctorPeterOsborne/
*These statements have not been evaluated by the Food and Drug Administration. This video is not intended to diagnose, treat, cure or prevent any disease. It is strictly intended for educational purposes only. Additionally, this information is not intended to replace the advice of your physician. Dr. Osborne is not a medical doctor. He does not treat or diagnose disease. He offers nutritional support to people seeking an alternative from traditional medicine. Dr. Osborne is licensed with the Pastoral Medical Association.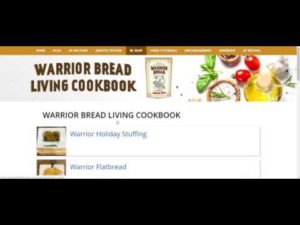 Grab Warrior Bread Here: https://www.glutenfreesociety.org/shop/supplements/warrior-bread-grain-free-bread-mix-presale/ Check out our...