Ultra Digest GB
Suggested Use: Take one capsule with every meal or snack with at least 8 oz. of liquid or as directed by a health care practitioner. Contents may be removed from capsule and taken by spoon immediately after mixing with a small amount of tepid water.
No fillers/Non-allergenic
An enzyme supplement designed to help promote availability and absorption of nutrients, health and vitality of cells, and improved overall digestion and immune system health. *
To benefit from all the nutritious component in our foods, a healthy digestive system is needed.
Today, dozens of factors including genetics, stressful lifestyles, poor diet, processed foods, and the environment all influence digestion. Supplementing a healthy diet and lifestyle with digestive enzymes is the next step in health.
This comprehensive digestive enzyme formula includes highly active enzymes with a broad range of specialties needed to digest the foods most commonly found in the human diet. * Once the food is broken down into simple nutrients, the body can then assimilate these for energy, growth, and repair. *
Proteolytic Enzymes
These enzymes support digestion of proteins for reduced risk of food sensitivities, toxins, and free radicals. *
Lipolytic Enzymes
These enzymes encourage more complete digestion of fats and lipids to support pancreas, liver, and gall bladder health and wellness. *
Polysaccharolytic Enzymes
The enzymes support the digestion of carbohydrates for reduced food intolerances and relief from occasional digestion and gas. *
Why should I take digestive enzymes?
If you have years of gluten induced GI damage, have had your gallbladder removed, or continue to suffer with GI symptoms then it is beneficial for you to take digestive enzymes.
Many people who go gluten free continue to complain about digestive and intestinal issues. Some of the most common reasons for this have to do with perpetual hidden gluten exposure, and pre-existing damage to the intestine, liver, gall bladder, and pancreas from years of prior gluten exposure. For these people, digestive enzyme support can mean the difference between recovering or not. The reason why is that digestive enzymes can facilitate the digestion and absorption process thus allowing the body to start receiving nutrients. The following diagram demonstrates where many going gluten free get stuck: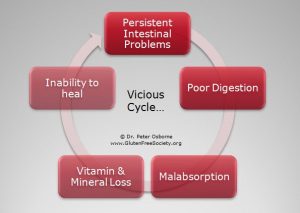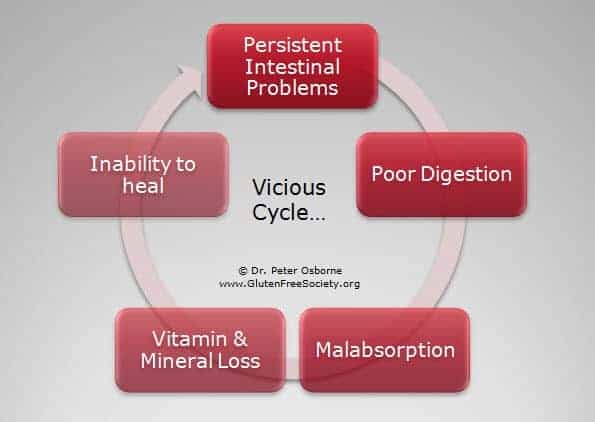 For many, the original gut damage is gluten induced, but unfortunately, removing gluten doesn't always lead to full recovery. The damaged gut can have difficulty producing digestive enzymes which in turn leads to digestive and absorption problems. The subsequent nutritional deficiency makes it very difficult for a damaged gut to heal, and the cycle continues.
*These statements have not been evaluated by the FDA. This product is not intended to diagnose, treat, cure or prevent any disease.