Happy Mother's Day Sale – Take 20% Off Today
Recovering From Gluten Induced Damage Requires The Right Nutrition…
Years of gluten exposure can damage the gastrointestinal tract and hinder the body's ability to properly digest, absorb, and assimilate nutrients into your cells where they work to support energy, hormone balance, and many other important functions…
Supplementation is Critical For Those With Gluten Induced Gut Damage
Multiple studies have shown the relationship between vitamin and mineral deficiencies and gluten intolerance and celiac disease. It is well established that damage to the intestinal cells can lead to malabsorption and poor digestion. One study showed that celiac patients following the gluten free diet still had vitamin and mineral deficiencies after 10 years of compliance. Add to this the fact that the chronic autoimmune inflammatory damage taxes the nutritional status of the body and we are left with chronically ill patients who need supplementation as part of their recovery process. Now add to this that almost 1/4 of all supplements contain hidden gluten and we have a major medical disaster.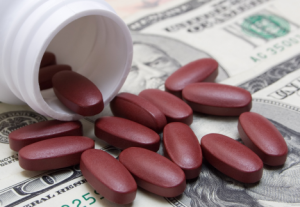 Are You Flushing Your Money & Health Down The Toilet?
A recent study investigated over the counter vitamin and mineral supplements for the presence of gluten, and the results were alarming for those who are trying to follow a gluten free diet and maintain a healthy lifestyle through the use of multi-vitamins, probiotics, etc.
we investigated the presence of gluten in twenty one common dietary supplements from the national market using the immunochromatographic assay. This visual assay proved to be an efficient rapid tool for gluten screening as an alternative to the ELISA techniques. The results have shown the presence of gluten in 23.8% of the investigated samples (vitamins, minerals, plant extracts, probiotics supplements, lactoferrin, propolis supplements).
Source: Roum Arch Microbiol Immunol. 2011 Oct-Dec;70(4):174-7.
1
Why is Gluten Cross Contamination In Supplements Such a Problem?
Many supplement manufactures process multiple products in their facilities. Often times, grain is used as a filler or additive. Wheat germ is a common example of a gluten based ingredient being used in supplement processing. This same problem can be seen in a number of prescription and over the counter medications. Below is a list of commonly used terms that may be grain based fillers in vitamin supplement products:
Wheat germ
food glaze
food starch
maltodextrin
MSG
Hydrolyzed vegetable protein
Textured plant protein
Artificial flavors and colors
natural flavors
dextrin
Corn is a Very Commonly Added Component in Supplements
If you have stayed up to date with current literature and research regarding corn gluten, then you are aware of Gluten Free Society's stance on this problem. If you are not aware, go here now and catch up. Corn based fillers are extremely common in supplement products. As a matter of fact, most brands of vitamin C are derived from corn. This is one of the many reasons why vitamin C formulations cause reactions in patients with gluten intolerance issues. As corn is easily hidden and disguised in many ways, I have put together a list of terms you will want to be aware of to avoid this contaminant in your supplements. If you are in need of probiotics and vitamin supplements without gluten, you can go here.
Introducing Ultra Nutrients
This new formulation was designed to offer superior nutritional support for those with gluten sensitivity. Unlike most brands, this Ultra high-quality, hypoallergenic, multivitamin/mineral blend includes activated vitamins and minerals including:
Folate as a blend of 5-MTHF vs. standard formulas containing inactivated folic acid
Vitamin B-12 as activated methylcobalamin vs. standard formulas containing cyanocobalamin
Vitamin B-2 as activated riboflavin 5′ phosphate vs. standard formulas containing regular riboflavin
Vitamin B-1 as Thiamin Mononitrate vs. standard thiamin hydrochloride
Vitamin A as a complex mixture of beta carotene and retinyl palmitate vs. beta carotene only
Vitamin E as mixed natural tocopherols vs. standard synthetic alpha tocopherol only
Patented Albion® TRAACS® chelated mineral complexes for enhanced absorption.
An antioxidant blend that supports phase I liver detoxification.
The comprehensive nutrient profile in Ultra Nutrient supports core wellness for those seeking to re-balance their nutrient status after years of gluten induced damage and malnutrition.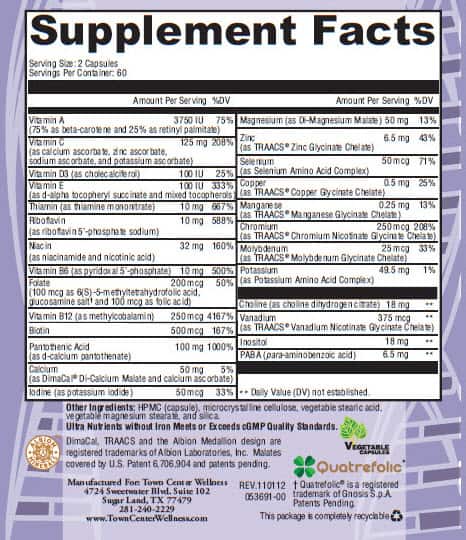 What Ultra Nutrients – Gluten Free Does Not Contain:
This advanced nutritional formula is free of: wheat, gluten, corn, rice, yeast, soy, dairy, fish (including shellfish), peanuts, tree nuts, egg, artificial colors, artificial sweeteners, and preservatives.
FAQ
How many capsules come in each bottle? 120 vegetarian gel capsules.
What is the recommended dose for this product? 2 capsules twice daily for adults.
Is this product safe for pregnant women? Yes. However; you should talk with your doctor or nutritionist to ensure you are getting enough zinc, folate, iron, and essential fatty acids to aid in the support of a healthy pregnancy.
Is this product safe for children? Yes. Children 5 years and up can take Ultra Nutrients. The recommended dose is two capsules per day with food.
Other Important Supplements Recommended for Aiding the Healing Process